GET YOUR LOYALTY POINTS AND SAVE WHILE YOU VAPE .
You can get Loyalty Points for a ton of different things. You can simply leave reviews to boost your order and if you have patience , we will give you extra points once you hit 5000 and 10000 points in your account . Once you register, you will be credited 500 points and we will give you 100 points after every 10th purchase you make. If all of this is not enough, you will also gain 500 points after every €100 spent from your account.
SEE THE LIST OF ACTIVITIES YOU WILL BE REWARDED FOR :
CREATE AN ACCOUNT : 500 POINTS
LEAVE A REVIEW : 100 POINTS
AFTER EVERY 10TH ORDER : 2500 POINTS
AFTER EVERY €100 SPENT : 500 PONTS
REACH 5000 POINTS AND YOU GET : 1000 POINTS
REACH 10.000 POINTS AND YOU GET : 3500 POINTS
There is always something special going on at Witchcraft.
See the list of Special Offers and Promotions.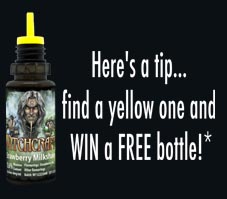 BECOME AN AFFILIATE AND MAKE MONEY.
Anyone can Sign up with ease and after creating your own unique url in the Affiliate Dashboard you can share your unique link on social media or on your website.
If someone clicks on the link your shared and buys our products, you will be credited 10% of the purchase.  Have a huge audience online ? Get in touch !