FIND A WITCHCRAFT BOTTLE WITH A YELLOW TIP AND WIN A FREE BOTTLE.
There are tens of thousands of yellow tips going around so keep an eye on the YELLOW TIP
The offer is in stores only and lasts until further notice.
You can claim your free bottle by bringing it into any of the participating stores.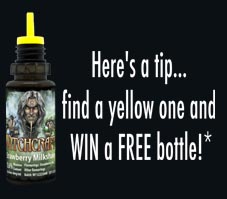 GET LOYALTY POINTS AND SAVE WHILE YOU VAPE .
You can get Loyalty Points for a ton of different things. You can simply leave reviews to boost your order and if you have patience , we will give you extra points once you hit 5000 and 10000 points in your account . Once you register, you will be credited 500 points and we will give you 100 points after every 10th purchase you make. If all of this is not enough, you will also gain 500 points after every €100 spent from your account.